The spread of a new coronavirus – 2019-nCoV – has to be of concern to everyone. Efforts to keep the virus out of Ireland have failed and any attempt to shrug off the dangers posed by the situation by saying, for example, that many more people will die of the flu this year, are seriously misplaced. Unlike the flu, as of March 2020 there is no vaccine for the coronavirus. Nor is there a method for ensuring the survival of those who contract it.
True, some four out of five people who become sick from the coronavirus will not suffer greatly but about 3.4% of those who contract the virus will die. Those who are old, those with underlying conditions, and those who smoke or who previously smoked are most at risk of death, which typically comes from respiratory failure.
The virus enters the lungs and penetrates deep into the tissue there, creating pneumonia and becoming life threatening for older people, particularly if the person already has hypertension or diabetes. Men (5%) are more likely to be killed by the virus than women (3%).
At the time of writing (1 March 2020), there are 88,382 officially confirmed cases; there have been 2,996 deaths; and – more positively – 42,769 people who have recovered. You can see the latest, up-to-date, live data for the spread of COVID-19 here.
Ireland's first confirmed case was announced on 1 March 2020 and within hours, Scoil Chaitríona, Mobhi Road, was closed for two weeks. Shockingly, and this is something I'll return to below, only for the fact that the information was shared by parents on social media were the public informed of this important news.
The official HSE website failed to explain that the case was that of a student who had returned from Italy or give a timeline or location for the report that someone had tested positive for the virus.
What are the causes of the coronavirus COVID-19?
Flu-like viruses have intermittently troubled humanity throughout our existence. Recent outbreaks include the SARS virus of 2002 – 4 and the H1N1 pandemic of 2009. The latest, 2019-nCoV, is said to have started at the massive Wuhan market in China; Wuhan, capital of the Hubei province, has over 11 million people. There is some evidence for transference of the virus from livestock in the Wuhan market, with early clusters of cases associated with activity there.
At the same time, a certain amount of what is frankly, racism, has obscured the origins of the virus. Some accounts of the appearance of coronavirus have expressed in mocking and hostile terms the belief that it has arisen from the wide variety of animals eaten in China, including those that do not feature in the Western diet.
Yet only a minority of the infections arose in people who had been in the Wuhan market streets near wildlife. A quarter of those originally infected had never been to the market and the earliest case of the coronavirus had arisen before anyone from Wuhan market was infected. One research team has speculated that the local hog population was the source of the new virus, based on the fact that this livestock species has similar physiology to humans in critical respects.
The increase in factory farming in China is likely to have been a contributor to the appearance of the coronavirus. In the past, new viruses often failed to spread beyond a small, local area because their means of transmission to large human populations was disrupted. In the twenty-first century, the speed of transmission is completely different to even the twentieth. A Chinese farmer can bring poultry, say, to the urban market very quickly with modern industrial methods and an infection can be shipped to a major city very quickly.
And as the environmental scientist and socialist, Rob Wallace, has written, the connectedness of the entire planet means the unprecedentedly swift spread of new viruses.
H1N1 (2009) crossed the Pacific Ocean in nine days, superseding predictions by the most sophisticated models of the global travel network by months. Airline data show a tenfold increase in travel in China just since the SARS epidemic.
Why is there so much misinformation about the coronavirus?
Unfortunately, in 2020 there exist vested interests that mean instead of a unified, planetary response to the coronavirus, one where everyone is accurately informed about the necessary steps to halt the increase in cases and deaths, there exist people who have a reason to put out misinformation.
For a start, there are those who have the incentive of making money to drive them to create confusion around the virus. There are websites selling cures and medical equipment that professes to be the answer to the virus, but isn't. Iran, in particular, has had some wild nonsense passed around via websites and social media, suggesting mint, vinegar, saffron, rosewater and turmeric, among other substances, can act to prevent the virus. More criminally, worldwide but with a focus on Japan, there are email scams which seem official and to be containing important information about coronavirus, but when you open them, they install trojans into your computer and search for valuable personal information.
Politicians have misinformed their constituents about the coronavirus
From the very beginning of this outbreak, politicians in authority have had a dangerous, irresponsible approach to dealing with the virus. A tragic example is that provided by Li Wenliang, an ophthalmologist in Wuhan. At the end of 2019, he posted on a chat group for doctors that there might be a new SARs-type virus as there were seven patients showing symptoms at his hospital. He advised medics to wear protective clothing. For this, he was visited by the police, brought to the Public Security Bureau and made to sign a document acknowledging that he would be brought to justice if he persisted in stubborn, impertinent and illegal activity. On 10 January 2020, Dr Li started coughing, he had caught coronavirus from one of his patients. On 30 January the diagnosis was confirmed and he died at the start of February.
Long after the evidence was overwhelming for the coronavirus outbreak, Chinese officials were still underreporting it and discouraging an effective response. Yet the West is little better.
Donald Trump, for example, has twice explained to the world that the threat of coronavirus will 'go away' in April with warmer weather. He's said that life will return to normal after the spike and that the media have been exaggerating how dangerous the virus is.
And in their own way, the caretaker Irish government have been failing us. Their theme is 'don't panic'. Well, yes, panic wouldn't help the situation. But is it panicking to want to know where the virus has been present and what measures are being taken to prevent it spreading? As the case of the student from Scoil Chaitríona shows, Fine Gael have a strategy of keeping detailed information out of the public domain as much as possible and assuring us that no special measures are needed.
This approach is creating panic rather than ending it. The less we know, the more we speculate and rumours (not without foundation in respect to the Mater hospital, but made up in other instances) of other possible cases fly around social media. Crucially, too, lives will be lost if the message goes out – as it did this morning on RTÉ's panel discussion – that public concern about the coronavirus was massively exaggerated and we should carry on as normal. We shouldn't even cancel travel plans to centres of infection like northern Italy.
By repeating the idea that more people will die of ordinary flu and failing to have someone on the panel with genuine expertise in pandemics, RTÉ ensured a complacent message came across, one that was exactly in tune with the 'don't panic' theme of government communication. Yet the comparison with annual flu is utterly misleading. Not only is coronavirus far more likely to kill someone, we are still at the very early stages of its spread. If coronavirus is anything like H1N1 from 2009, which it seems to be, the final figures will be grim. According to the Lancet, probably some 284,000 people were killed in one year as a result of that last virus.
Business interests are preventing the necessary measures to stop the coronavirus
What unites the Chinese authorities, Donald Trump and Fine Gael is the terrifying prospect of massive losses to business if they take strong measures to stop coronavirus: measures such as closing airports, schools and factories. In the last week, even at the thought that such measures might prove necessary, stock markets lost nearly six trillion dollars in value.
The world economy had been picking up slightly in the wake of the resolution of the US-Chinese trade war but now it will plunge downwards. Already, indicators are showing we are heading for a dip comparable to 2008 and this is likely to worsen.
There is a clash of interest between many businesses and the needs of public health. In insurance, for example, companies only have to pay out to passengers who cancel their trips, if the government has placed official advice not to travel to the region of the planned trip. There is pressure, therefore, on the government from this industry not to introduce notices advising against travel or to limit the regions covered by the notices.
Or, to take the example of large sporting events such as the 2020 Olympics. So much vested interest and wealth is tied up in the Olympics that authorities have been extremely reluctant to announce its cancellation, when it is an obvious precautionary step to take to do so. On a much smaller scale, despite the advice of Ireland's chief medical officer, there was considerable delay before Ireland's rugby international with Italy was postponed.
Yes, people will lose fortunes over this outbreak. But lives lost can never be regained and nor will they be compensated for, in the way that some businesses will escape the full hit of the impact of the cancellation of events and the temporary closure of factories.
Ireland is not ready for the impact of coronavirus COVID-19
We have a particular problem in Ireland when it comes to coping with an outbreak of the coronavirus: we are already starting from a situation where there is a huge shortage of hospital beds. Years of neglect of the public health system, both in terms of staff and facilities, means there is already a crisis, even before the spread of the coronavirus. Every major hospital, the HSE tells us, has identified an isolation room to which a COVID-19 patient will be taken. In other words, with the exception of the Mater hospital, which does have an isolation unit already functioning, these are hypothetical spaces.
And of course, as soon as the outbreak hits hard, the theoretical preparations are going to prove pathetic, inadequate and dangerous to hospital patients and staff. Coronavirus patients are going to need intensive care to survive, particularly in regard to equipment to assist their breathing. Yet, as Dr Michael O'Dwyer of St Vincent's Hospital told the press the use of intensive care beds was at 'a hundred and ten percent capacity'. There has not been a free intensive care bed at St Vincent's since Christmas.
It would only take around a hundred coronavirus cases and the consequent five or so patients who need life-saving interventions would strain the system, with knock-on effects in other areas. Instead of identifying rooms, 'in case', the government should prepare for a worst-case scenario and immediately recruit the extra staff and actually set up the extra intensive care rooms that have been identified. To do this, however, would be a complete reversal of Fine Gael's approach to health, where there has been an unofficial embargo on recruitment for months.
Another failure of the government in Ireland with regard to the coronavirus is that they have not insisted that all large workplaces and public transport hubs provide facilities for the hygiene measures needed to reduce the spread of the coronavirus. Where are the hand sanitizers at all the LUAS, Dart and railway stations? At the major colleges? At the libraries? Theatres? Big workplaces? Some have them, most don't.
I gave a lecture at Trinity College Dublin two days ago on another threat to humanity, that posed by geo-engineering. The hand sanitizers I passed were empty. Whether that was a failure by the college or government or both, it was symbolic of a deep complacency and resistance to spending money to avert a crisis.
Will workers in Ireland be paid if the coronavirus means that their workplace closes?
If the virus spreads through Ireland, there will be more closures like that of Scoil Chaitríona. The situation for entire workplace closures seems to be that while the employer might request workers do what they can from home, failure to pay staff who are available for work would probably be a breach of contract. For individual workers, however, there is likely to be something of a battle between unions and management.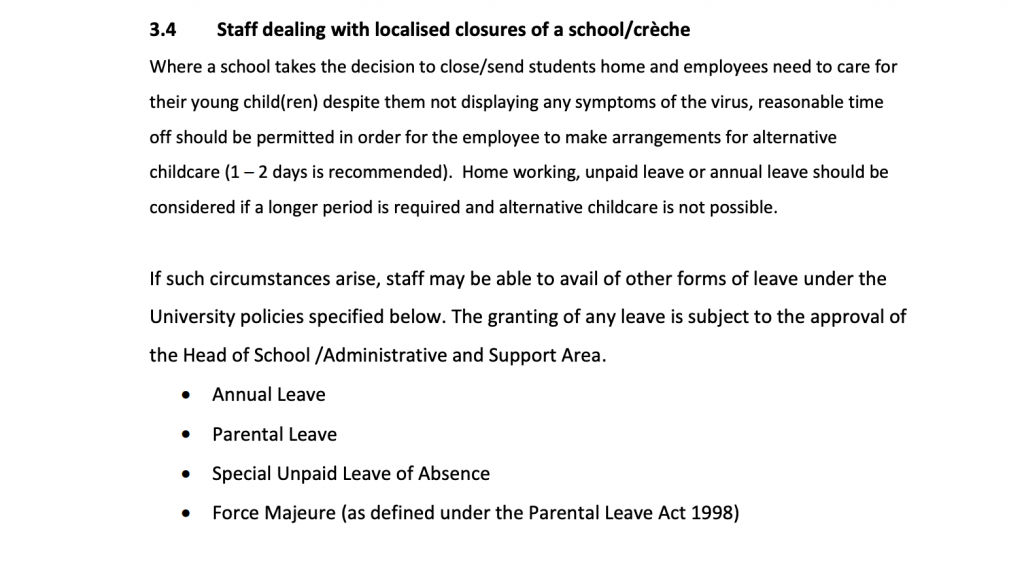 In theory, if you are advised by the HSE to self-isolate, your employer is not obliged to pay for your absence. Or if you have to leave work to care for a child sent home from a school closed because of coronavirus, you might be told this has to be paid leave, that the situation is not one of force majure. In the examples above, which were issued by TCD HR on 5 March, pressure is put on staff to take annual leave, parental leave or unpaid leave. Obviously, in the interests of public health, the government should insist that all workers who are being responsible and self-isolating must be paid. Ditto the parent who cares for a child in isolation. But again, this is not Fine Gael's approach. They are, along with Fianna Fail, the friends of the employers and have issued no such guideline. It will be up to the unions to establish this policy or workers themselves, taking industrial action in support of their member who has protected everyone by not coming in to work.
From the UK comes a warning on this issue, where Wetherspoons, who also have businesses in Ireland, have refused to pay workers for their absence, other than the statutory payments under the sick pay regulations and that means nothing for the first four days then only £94.25 a week. Not only is this a moral disgrace, financial hardship might well will lead to people with the virus coming to work instead of self-isolating. In other words, a tough line by the employers is a disastrous one for the public.
There is a petition in support of workers rights in Ireland here, demanding that the government insist that workers who are self-isolating should be paid.
The free market is not the way to develop a vaccine for the coronavirus
Another way in which competition between businesses is making the the coronavirus far more dangerous than it should be is in regard to developing anti-viral solutions. Those pharmaceutical companies involved in the development of vaccines are doing so for the potential to profit from the crisis. Shares in Moderna for example, rose by eleven percent in one day in January when the company said it had US health funding for research on a vaccine. Clearly, investors calculated there was money to be made for the company, after fulfilling its obligations to the US state.
This private company solution to the development of a vaccine means we must be concerned about its cost and that inability to pay might lead to a divide between the rich and poor, in terms of who is protected from the virus. This is happening all the time in medicine and the Irish government should have no hesitation in breaking a private monopoly over a vaccine should one arise. Again, this is not a step that the Fine Gael caretakers would endorse.
The market has already failed us in regard to a vaccine for the coronavirus: as Professor Peter Hoetz explained to the Guardian, the tragedy is that after SARs a vaccine could have been stockpiled and made ready to go. But 'the investor enthusiasm for a Sars vaccine was zero.' No global health organisation or government stepped in and we are now racing against time to develop a vaccine. The issue is not so much the creation of a vaccine, there are several promising approaches, but the necessary delays in testing, to make sure there are no unforeseen and dangerous consequences.
The US provides a clear case what happens when the right to make a profit and the free-market are seen as essential to health care.
The Miami Herald reported how it works there. Osmel Martinez Azcue, acting responsibly, reported to hospital for a check after returning from China. The subsequent bill to his insurance company was $3,270. In a country with 27.5 million people without health insurance and more than a third of the workforce are not entitled to sick leave, the private system of medicine clearly doesn't make sense in the face of a public health care challenge like an epidemic.
A socialist society would be a lot less vulnerable to coronavirus-type outbreaks. Agriculture would be less likely to create the conditions in which viruses develop among animals and cross over to humans; our representatives would not be under pressure from businesses to delay the necessary measures to halt the spread of the epidemic; we'd have much more investment in hospitals and staff to treat patients, and we'd share knowledge about the epidemic and possible vaccines and cures globally, for free.
FAQs about the coronavirus based on information provided by the World Health Organisation.
What are the symptoms of the new coronavirus, COVID-19?
Like a bad flu, the symptoms of COVID-19 are fever and tiredness. Also a dry cough. Some people report aches and pains, nasal congestion, a runny nose or diarrhoea. The symptoms usually begin gradually. If you have a temperature, cough and difficulty breathing, look for medical help.
What should I do if I think I have coronavirus?
Isolate yourself, including from your family e.g. occupy a room for yourself only. Seek medical advice promptly from your GP or the HSE helpline (below). Call before leaving for care to help prevent the spread of the virus and also to be directed to the appropriate place.
What should I do to limit my exposure to the coronavirus?
Firstly, everyone in Ireland now needs to take the risk of infection seriously. The virus can spread when an infected person sneezes or coughs. Try to maintain at least 1 metre distance between yourself and anyone who is coughing or sneezing. As it can probably survive on a surface for days, regularly and thoroughly wash your hands after being in public places.
How can I minimize the risk of becoming infected?
Regularly and thoroughly wash your hands with soap and water or an alcohol-based hand rub (at least 60% alcohol and let the santizer dry on the hand). Don't bring your fingers to your eyes, nose and mouth (entry points to your body for the virus).
Is there a vaccine for COVID-19?
Not at present.
Who should I call in Ireland for more information about the coronavirus?
The HSELive helpline on 1850 24 1850.